Support Your Local Astronomer!
Thursday, July 30, 1:30 PM EDT NASA Television will host a live news event. Including #FoxNews interviewing the Expedition 44 Crew. https://www.nasa.gov/multimedia/nasatv/index.html#media
Located in the far corner of Big Oak Park - follow the road to the silver dome
585 Big Oak Road
Smyrna, Delaware 19977
(302) 659-5003
Researchers Identify Water Rich Meteorite Linked To Mars Crust

NASA-funded researchers analyzing a small meteorite that may be the first discovered from the Martian surface or crust have found it contains 10 times more water than other Martian meteorites from unknown origins.

This new class of meteorite was found in 2011 in the Sahara Desert. Designated Northwest Africa (NWA) 7034, and nicknamed "Black Beauty," it weighs approximately 11 ounces (320 grams). After more than a year of intensive study, a team of U.S. scientists determined the meteorite formed 2.1 billion years ago during the beginning of the most recent geologic period on Mars, known as the Amazonian.
WALLOPS ISLAND, Va. – NASA's Wallops Flight Facility provided launch range support for an

Orbital Sciences Corp. Antares

rocket engine test Feb. 22 at the Mid-Atlantic Regional Spaceport's Pad-0A.

From NASA's Wallops Web site:

WALLOPS ISLAND, Va. -- NASA commercial partner Orbital Sciences of Dulles, Va., successfully conducted an engine test of its Antares rocket Friday, February 22, at the nation's newest launch pad.

The company fired dual AJ26 rocket engines for approximately 30 seconds while the first stage of Orbital's Antares rocket was held down on the Mid-Atlantic Regional Spaceport (MARS) Pad-0A at NASA's Wallops Flight Facility in Wallops Island, Va. The test demonstrated the readiness of the rocket's first stage and launch pad fueling systems to support upcoming test flights.

The test is a key milestone leading up to the first flight of the Antares rocket, which is preliminary scheduled for about four to six weeks following the completion of the engine test.
Tentatively Scheduled for Launch - June, 2013
---
http://spacegrant.colorado.edu/rockon/index.html
"Antares" Awaits 2nd Stage

The First Stage rocket sits on the pad at Wallops Island.
It was moved down from the Port of Wilmington, DE, recently. I am told it took about six hours to travel Route One south. . .
http://sunearthday.nasa.gov/spaceweather
NASA's Launch Schedule features the planned dates and details for missions by NASA and the partner nations in the International Space Station Program, including Russia, European Space Agency and Japan. To learn more about how the schedule is arranged and what it includes, check out
Launch Schedule 101.
23 YRS of Orbital Rocket Science -

Dedicated. Knowledgeable. Brilliant! 

 

---
LIVE Coverage on NASA TV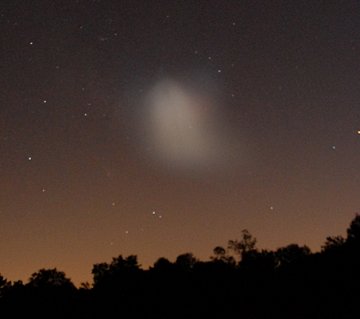 ---
NASA's JPL Blog
"Comets and Life On Earth"
It is becoming a bit more clear how life may have originated on Earth.
---
Shuttle / ISS Visibility Predictions
for Dover, DE
Not near Dover?
---
For NASA TV streaming video, scheduling and downlink information, visit:


NASA will provide continuous mission updates online, including a webcast and a blog, at:
http://www.nasa.gov/shuttle
On launch day, a blog will update the countdown beginning at 4 p.m. Originating from Kennedy, the blog is the definitive Internet source for information leading up to launch. During the mission, visitors to NASA's shuttle Web site can read about the crew's progress and watch the spacewalks live. As Discovery's flight wraps up, NASA's blog will detail the spacecraft's return to Earth.
Live updates to the NASA News Twitter feed will be added throughout the shuttle launch countdown, mission and landing. To access the NASA News Twitter feed and other agency Twitter feeds, visit:
http://www.nasa.gov/collaborate
---
IOTA Occultation Manual free Download
The Complete Guide to Observing Lunar, Grazing and Asteroid Occultations


The International Occultation Timing Association (IOTA) has just released a new book on Occultations. It's a free, online and ready for downloading PDF file. It is 388 Pages.

If you like to time the disappearance of stars (and asteroids, planets. . . ) and reappearances along the lunar limb, you will find this manual to be a great resource.
http://www.poyntsource.com/IOTAmanual/Preview.htm

From the Preview Website:
"The International Occultation Timing Association (IOTA) wants you for the most exciting observations you can make – occultations ! Never before has there been an opportunity to contribute to the body of scientific knowledge about the lunar limb profile and the size of shape of asteroids plus a host of other occultation phenomena. . ."
"Occultations occur when one celestial body passes in front of another, temporarily blocking its light. The observation of these "eclipse" events provides important information on the celestial body responsible for the eclipse. . ."
"All astronomers, both amateur and professional, can make occultation observations.This book has all the necessary information one needs to begin a successful occultation program. Whether you are a novice observer, or an advanced observer with a video system, you can assist in the search for asteroidal moons, help discover new double stars and help determine the size of the Sun during solar eclipses. . ."

"Written by IOTA's most experienced astronomers, this is the only book you'll need for occultation observations of stars by the Moon, by asteroids, and other solar system bodies. It includes an extensive set of Appendices, and over 120 figures and diagrams, 388 pages.
Chasing the Shadow: The IOTA Occultation Observer'sManual
- is currently online, FREE as an e-book. . ."

Go straight for it:
http://www.poyntsource.com/IOTAmanual/IOTA_Observers_Manual_all_pages.pdf

Thanks go out to the AOS for the link!