Support Your Local Astronomer!
Prepare for the Perseids!
The Perseid meteor shower may be exceptional this year. Acclaimed meteorologist and fellow amateur astronomer Joe Rao states Jupiter has "nudged" a stream of particles, the detritus from the 1992 return of comet Swift-Tuttle, earthward. And while reports are already coming in, though not remarkable it is noteworthy. The radiant rises out of the Northeast after 10 PM.
Begin by looking at any wide patch of sky beginning AUG 7. But meteors are usually best after midnight, as earths rotation meets the incoming stream of particles.
Meteor counts should increase nightly. And an outburst is expected 7 hours before maximum; some time after the moon sets about 1:30 AM, AUG 12. Best viewing is from a dark sky site, away from city lights with a wide swath of sky, after moonset until dawn encroaches, the night of AUG 11-12.
While The RASC Observer's Handbook estimates 90 meteors per hour, Mr. Rao and Sarah Lewin anticipate an increase two-fold during the outburst!

---
is scheduled no earlier than AUG 22, 5:56 PM from Wallops Island on an Antares rocket, carrying the Cygnus module to ISS
From Antares developer Orbital ATK:
Orbital ATK human spaceflight systems web page
Orbital ATK OA-5 mission fact sheet (PDF)
Orbital ATK Cygnus fact sheet (PDF)


Orbital ATK Cargo Resupply fact sheet (PDF)
The Cygnus module is named after Naval aviator Alan Poindexter (PDF)


---
Wallops Flight Facility is undergoing some changes with the advent Commercial Space Launches.
Under the auspices of the
Virginia Commercial Space Flight Authority
4111 Monarch Way, Suite 303
Norfolk, VA 23508
(757) 440-4020
The site is transforming into the
Mid-Atlantic Regional Spaceport (M.A.R.S.)
Latitude: 37.8 degrees N

Longitude: 75.5 degrees W
All the while remaining as historic Wallops Island, Virginia.
Find more information on this exciting endeavor at
---
I volunteer at the
Located in the far corner of Big Oak Park - follow the road to the silver dome!

585 Big Oak Road
Smyrna, Delaware 19977
(302) 659-5003
http://sunearthday.nasa.gov/spaceweather
NASA's Launch Schedule features the planned dates and details for missions by NASA and the partner nations in the International Space Station Program, including Russia, European Space Agency and Japan. To learn more about how the schedule is arranged and what it includes, check out
Launch Schedule 101.
23 YRS of Orbital Rocket Science -

Dedicated. Knowledgeable. Brilliant! 

 

---
LIVE Coverage on NASA TV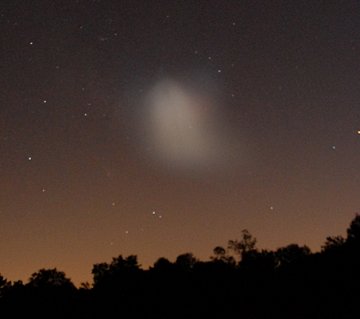 ---
NASA's JPL Blog
"Comets and Life On Earth"
It is becoming a bit more clear how life may have originated on Earth.
---
Shuttle / ISS Visibility Predictions
for Dover, DE
Not near Dover?
---
For NASA TV streaming video, scheduling and downlink information, visit:


NASA will provide continuous mission updates online, including a webcast and a blog, at:
http://www.nasa.gov/shuttle
On launch day, a blog will update the countdown beginning at 4 p.m. Originating from Kennedy, the blog is the definitive Internet source for information leading up to launch. During the mission, visitors to NASA's shuttle Web site can read about the crew's progress and watch the spacewalks live. As Discovery's flight wraps up, NASA's blog will detail the spacecraft's return to Earth.
Live updates to the NASA News Twitter feed will be added throughout the shuttle launch countdown, mission and landing. To access the NASA News Twitter feed and other agency Twitter feeds, visit:
http://www.nasa.gov/collaborate
---
IOTA Occultation Manual free Download
The Complete Guide to Observing Lunar, Grazing and Asteroid Occultations


The International Occultation Timing Association (IOTA) has just released a new book on Occultations. It's a free, online and ready for downloading PDF file. It is 388 Pages.

If you like to time the disappearance of stars (and asteroids, planets. . . ) and reappearances along the lunar limb, you will find this manual to be a great resource.
http://www.poyntsource.com/IOTAmanual/Preview.htm

From the Preview Website:
"The International Occultation Timing Association (IOTA) wants you for the most exciting observations you can make – occultations ! Never before has there been an opportunity to contribute to the body of scientific knowledge about the lunar limb profile and the size of shape of asteroids plus a host of other occultation phenomena. . ."
"Occultations occur when one celestial body passes in front of another, temporarily blocking its light. The observation of these "eclipse" events provides important information on the celestial body responsible for the eclipse. . ."
"All astronomers, both amateur and professional, can make occultation observations.This book has all the necessary information one needs to begin a successful occultation program. Whether you are a novice observer, or an advanced observer with a video system, you can assist in the search for asteroidal moons, help discover new double stars and help determine the size of the Sun during solar eclipses. . ."

"Written by IOTA's most experienced astronomers, this is the only book you'll need for occultation observations of stars by the Moon, by asteroids, and other solar system bodies. It includes an extensive set of Appendices, and over 120 figures and diagrams, 388 pages.
Chasing the Shadow: The IOTA Occultation Observer'sManual
- is currently online, FREE as an e-book. . ."

Go straight for it:
http://www.poyntsource.com/IOTAmanual/IOTA_Observers_Manual_all_pages.pdf

Thanks go out to the AOS for the link!